Professor Emerita volunteers with Oregon State to 'generate good will'
December 31, 2019
Professor of Art Emerita Kay Campbell worked in higher education in Oregon for 30 years. She was a professor in the Department of Art at Southern Oregon University in Ashland between 1987-1999, and later, at Oregon State University in Corvallis from 1999-2017.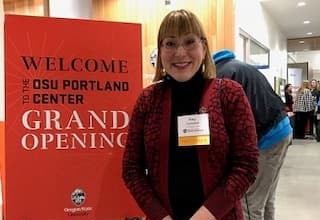 After taking an early retirement from OSU, Kay relocated from Corvallis to Portland. Once settled, she sought out educational organizations in the city to make connections with in her new community. Among others, she reached out to the Portland area OSU Alumni Association group with the intention of finding a way to "engage and continue my association with the university beyond my former career in higher education."
In January 2019, she volunteered as a greeter at the opening of the OSU Portland Center in the former Meier and Frank building in downtown Portland. Since then, she has volunteered at a number of Alumni Association gatherings and finds her continued engagement very gratifying. After a year of participating in OSUAA as a volunteer, and her previous decades of working closely with students and in governance across the university, she hopes to continue contributing in ways that "generate good will in the Oregon State community."
Looking for ways to engage digitally with the OSU community during this time? Check out Beaver Lodge for live webinars, activities, news and more!