Reub A. Long Professor
December 31, 1998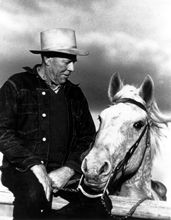 Reuben A. Long, a native Oregonian and a 70-year resident of Fort Rock, southeast of Bend, was a living legend in the state's agricultural community. A horse rancher and conservationist, he served as a chairman and longtime member of the State Board of Agriculture. He was also renowned as a writer and storyteller, most famously as co-author, with the late E. R. Jackman, of The Oregon Desert, a regional bestseller.
As a board member for the OSU Foundation, Long was instrumental in securing the Harris Ranch gift, a property the university used for rangeland research purposes. He also made a significant contribution of his own to the state of Oregon, donating property that the state designated as Ft. Rock State Park.
Before his death in 1974, Long established a trust which, upon the passing of its final beneficiary, provided funds for the Reub A. Long Professorship. The professorship is awarded by position to the Dean of the College of Agricultural Sciences and supports development activities and fund-raising programs for the college and the E.R. Jackman Foundation.
Current Faculty Holder