Richard Strachan Chair in Forest Operations Management
December 31, 2006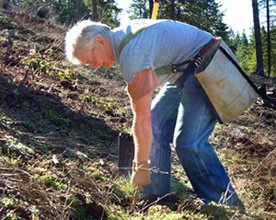 The Richard Strachan Chair in Forest Operations Management seeks to provide knowledge and supply graduates that will help the Pacific Northwest forest sector compete effectively in the international marketplace and help maintain forestland profitability. The chair's research complements a professional forest operations management degree program in the Forest Engineering Department. The program is a unique blend of forestry, technology, business management, and entrepreneurship.
Richard Strachan, a 1978 College of Forestry alumnus and director of Miami Corporation, endowed the chair in 2006. "My hope is that the occupant of the chair will make steady contributions to professional and technical knowledge that benefit the state and the forest products industry, and are well-received by his or her peers," Strachan said. "This gift is a challenge to my peers to do more and better things for the College of Forestry that is so important to us, the state, and the nation."
Strachan has spearheaded a series of major gifts to the OSU College of Forestry, including the Lee Harris Memorial Forest Management Fund, the Larry Hoffman Scholarship in Wildfire and Ecosystem Health, and the Richard Strachan Forest Engineering Graduate Fellowship.