Richard Strachan Faculty Scholar in Fire and Silviculture
December 31, 2017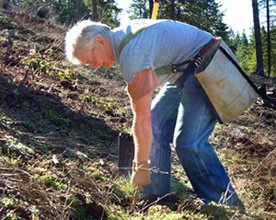 College of Forestry alumnus Richard Strachan '78 understands the importance of this college for Oregon and the world. He is deeply committed to helping the Pacific Northwest forest sector compete in the international marketplace and maintain forestland profitability. To this end, Strachan has made numerous gifts that support OSU research and equip students with the knowledge and tools necessary to become leaders in the forest industry.
Director of Miami Corporation, Strachan established an endowed chair in forest operations management in 2006. In 2017 he made gift commitments establishing two additional endowed faculty positions: the Richard Strachan Faculty Scholar in Logging Technology and the Richard Strachan Faculty Scholar in Fire and Silviculture.
Strachan has also generously supported the Lee Harris Memorial Forest Management Fund, the Larry Hoffman Scholarship in Wildfire and Ecosystem Health, and the Richard Strachan Forest Engineering Graduate Fellowship.