Robert C. Wilson Faculty Scholar
December 31, 2002
As a building contractor, civic leader, and philanthropist, R.C. Wilson made a profound and lasting impact on Corvallis and Oregon State University.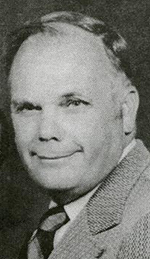 A 1950 civil engineering graduate who later taught in Oregon State's manufacturing engineering department, he and his company constructed thousands of structures throughout the state – schools, medical buildings, banks, churches, and shopping centers. His OSU-related projects include the Wayne Burt Oceanography Building and Hawley Hall, along with additions to the pharmacy building, forestry lab, and the student health center.
As a volunteer leader, Wilson did even more. He was named a Lifetime Trustee after serving over 30 years on the OSU Foundation Board of Trustees, in addition to service on the College of Engineering's advisory board and extensive involvement in the Corvallis community. When he passed away in 2006, an article in the local newspaper noted that it conducted surveys in 1975 and 1992 to determine the 10 most powerful people in Corvallis. "Tellingly," it said, "Wilson's name was the only one that made both lists."
A dedicated Beaver fan, Wilson generously supported scholarships, athletics, and OSU's construction engineering program. The endowment he established supports the Robert C. Wilson Faculty Scholar: a position held by a tenure-track faculty member who is conducting high quality research in construction management and who teaches how to best integrate business practices, construction management, and engineering with new technologies.
[Photo: OSU Special Collections & Archives Research Center]