Ruth H. Spaniol Chair of Renewable Resources
December 31, 1992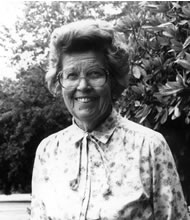 In 1992 the late Ruth Spaniol '33 gave 800 acres of forestland valued at $3.1 million to the OSU Foundation. According to her wishes, the Foundation held the proceeds from the eventual sale of the land in three charitable remainder trusts, established to benefit her three children throughout their lifetimes. With the 2003 death of her daughter, Sherry Chain, after a battle with cancer, one of the trusts passed to the College of Forestry, creating an endowed chair in renewable resources.
Spaniol, who attended Oregon State during the Depression, taught language arts at Stayton Union High School, including courses in Latin. She began buying timberland after her father (a 1903 Oregon State alumnus) suggested it would be a good investment.
Her long-term vision was to promote the science and educational programs that will allow Oregon forests to be well managed for many generations. "As a society, we're going to have to do more to preserve and enhance the capability of our forests," she said when she made the gift. "We'll need to do a lot in the science field—develop new ideas about how to manage forests, not just in the harvest area but in developing new products."