Navigating through challenges makes the triumphs even better for Oregon State bioengineering graduate.
January 31, 2019
When looking at just how far she's come, Sydney Quinton-Cox '17 reflects on her years at Oregon State University and the safe space they provided her to experiment, explore, fail and try again.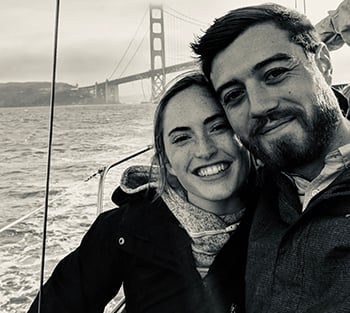 Quinton-Cox decided she wanted to be a Beaver in high school after attending the Summer Experience in Science and Engineering for Youth Program on the Oregon State campus. There, she was introduced to bioengineering through Skip Rochefort, associate professor of chemical engineering. During college, she was involved in the Engineering Leadership Academy and held leadership roles in student groups like the Chemical, Biological and Environmental Engineering Club; the Society of Women Engineers and the Engineers Student Council — all of which prepared her for her career. Fascinated by the entrepreneurial spirit and drive of Silicon Valley, Quinton-Cox moved to the Bay Area. But life after college brought a few hurdles.
Standing up for career women everywhere
Quinton-Cox lived in a hacker house with other like-minded techies, sharing a room for $900+ a month, moving multiple times and sleeping on an air mattress. Then, there was a car accident and concussion to recover from.
All the while, her first post-college position in the pharmaceutical industry did not go as planned. Quinton-Cox left the job because she experienced sexual harassment and reflects on the many tears and expectation of silence from people around her. A quote by Mark Twain reminds Quinton-Cox to keep going, despite any roadblocks she might encounter: "Courage is not the absence of fear. It is the acting in spite of it."
Her experience taught Quinton-Cox to stick up for herself, protect others and hold people accountable for their actions. She hopes to be a part of a positive change so fewer women are treated unfairly in the workplace — especially within STEM fields.
A new beginning
Despite the setbacks, Sydney continues working toward her goals. Inspired by two of her Oregon State mentors, Natasha Mallette and Scott Paja, Sydney developed and co-presented a workshop to the Engineering Leadership Academy students about preventing sexual harassment in the workplace, "Engineering Safe Spaces: From Bystanders to Allies."
Today, she is thriving in her new role at Carbon, a 3D printing manufacturing company in the Bay Area that creates products like midsoles for adidas running shoes, auto parts for Lamborghini, digital dentures and more. She also volunteers her time for the OSU Alumni Association, offering students and recent graduates career advice and reminding them to stand by their values — even when it's uncomfortable or scary.
Quinton-Cox emphasizes she wouldn't be where she is today without years of trial-and-error, exploration, failure and hard work. And her motivation to succeed continues. She plans to develop a women's group at Carbon, earn a master's degree and start a company. Even though her path took a few detours, she has come out stronger. She's prepared to take on any challenge that comes her way — and help others do the same.