Withycombe Chair in Reproductive Physiology
December 31, 2005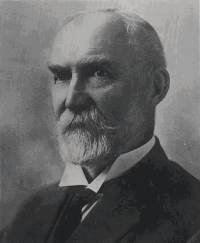 The Withycombe Chair in Reproductive Physiology was established with a distribution from the estate of James H. "Jim" Withycombe. It honors Jim's grandfather, Oregon Governor James Withycombe, the first head of Animal Sciences and former director of the Agricultural Experiment Station at Oregon Agricultural College.
The elder James Withycombe came to Oregon from England with his family at 17 to launch a prosperous and innovative career as a farmer and livestock breeder. After serving as state veterinarian for Oregon, he was appointed professor of agriculture at OAC. He was recognized as a master breeder and was especially interested in purebred animals from all agriculture species.
James Withycombe led the Agriculture Experiment Station for 16 years and helped move Oregon agriculture forward in significant ways. A pioneer in soil conservation, he introduced new, more productive crops and better farming techniques to farmers, crisscrossing the state via horse and buggy and by train. As governor, Withycombe guided the state through the troubled years of World War I and its aftermath until his premature death in 1919 at the start of his second term.
The chair also celebrates the life of Jim's father, Harry Withycombe. A top Northwest high jumper in his day, he was an Oregon Infantryman, rifle instructor, horse breaker, wilderness ranger, gold assayer, and, finally, a small-town Montana pharmacist.
A member of the class of 1951, Jim Withycombe worked in the aerospace industry for many years and was a successful real estate investor in the Los Angeles area. He died in 2002.
The Withycombe Chair in Reproductive Physiology was established in order to maintain OSU Animal Sciences' preeminence in this important discipline, a focus that is vital to Oregon and the animal agriculture industries. The Withycombe Chair provides assistance to a faculty member in establishing and maintaining a cutting edge research and education program in reproductive physiology.