OSU revives an old tradition this fall – one that hasn't taken place since 1986
August 2, 2022
Don't miss this year's historic game in Portland as the OSU Beavers take on the Montana State Bobcats on Sept. 17. Game tickets are available for purchase through Seat Geek, and don't forget to also register for the OSU Alumni Association Tailgate Town event. Go Beavs!
By Kip Carlson
Oregon State revives an old tradition this fall — one that hasn't taken place since 1986 but that at one time was a yearly event for most of the 1900s:
Playing a football game in Portland.
With Reser Stadium's capacity reduced due to its west side being rebuilt during the 2022 season, OSU took the opportunity to move its Sept. 17 game against Montana State to Providence Park. That's the same stadium formerly known as Multnomah Stadium and Civic Stadium when the Beavers played at least one game there annually from 1926–36, 1941–73 (minus the 1943–44 seasons canceled due to World War II) and 1983–86.
Oregon State's football history in the Rose City dates back to the 1903 season, when Oregon Agricultural College lost to the Multnomah Athletic Club 16-0. The Beavers' most recent game in Portland was in 1986, a 49-0 loss to UCLA.
That loss left OSU with a 44-54-3 record in Portland games. Here are some of the notable contests the Beavers have played in Portland:

1928
Oregon State plays a doubleheader on Oct. 13, beating Columbia (now University of Portland) 41-0 and Pacific (the Forest Grove version) 46-0. An Associated Press story reported coach Paul Schissler "used but a skeleton of the first team for at least a quarter against each team … (Howard) Maple, star quarterback, was evidently under orders to try out all reserves, as he always called other backs to take the ball over, although during the little time he was in he threw his usual accurate passes and was strong in line plunging." The Beavers would finish that season gaining national notice by beating New York University 28-13 in Yankee Stadium.


1933
Portland was the site of two iconic moments in Oregon State history, but neither was a win. On Oct. 21, Oregon State holds Southern California to a 0-0 tie in front of 25,000 fans, breaking the Trojans' 25-game winning streak. The Beavers use just 11 players, and the legend of the Iron Men is born. Red Franklin picked off three passes; USC drove inside the Oregon State 10-yard line twice but was stopped on downs both times. Then on Nov. 11, Oregon State loses to Oregon 13-3 but unveils the "Pyramid Play," as two Beavers hoist lineman Clyde Devine high above the line of scrimmage trying to block an Oregon kick. A photo of the athletic engineering feat by Oregon Journal photographer Ralph Vincent earns OSC notoriety as it is published in papers across the country.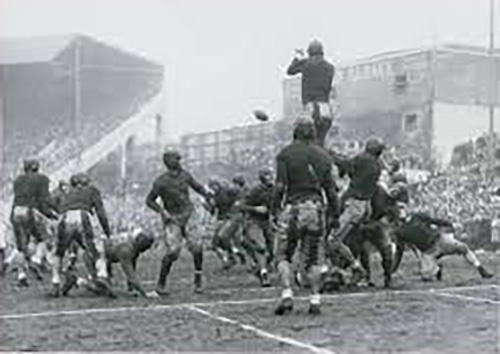 Oregon Journal photographer Ralph Vincent captured this image of the "Pyramid Play" that gained Oregon State notoriety across the country in 1933.


Oct. 20, 1945
Portland celebrates its first post-World War II big-time college game as Oregon State falls to Washington 13-0. Just two months and six days after V-J Day, a crowd of 22,600 savors one of the first tastes of a return to pre-war living.


1949
Oregon State upsets eight-ranked Michigan State 25-20 on Nov. 12. It's especially sweet for first-year Beaver head coach Kip Taylor, who had been an assistant at Michigan State the past two seasons. Beaver end Stan McGuire was named National Lineman of the Week by the Associated Press for a performance that included a touchdown catch, a safety after a blocked punt and three point-after kicks in front of a crowd of 22,239. McGuire would be named one of Oregon State's co-captains for 1950 but was killed in a car accident prior to the season.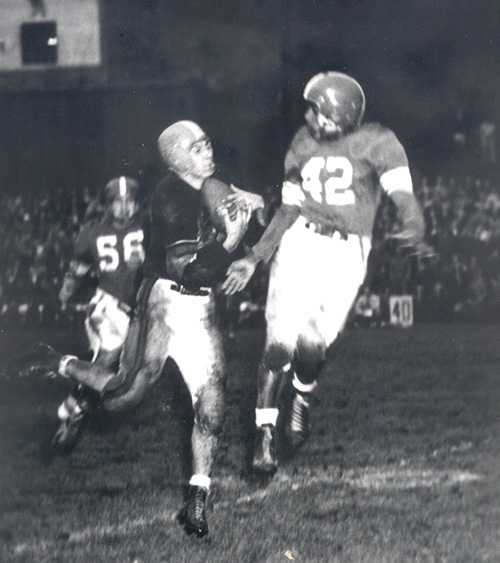 Stan McGuire makes one of his receptions that earned him national Lineman of the Week honors in a 1949 upset of Michigan State.


Sept. 21, 1957
Defending Pacific Coast Conference champ Oregon State, ranked 13th nationally, opens its season by blanking 19th-ranked Southern California 20-0. The crowd of 36,855 is the largest ever to see a football game in Oregon up to that time.


1962
Terry Baker helps his bid for the Heisman Trophy on Oct. 27 as the Beavers rout No. 19 West Virginia 51-22. Baker threw for three touchdowns in the first half and finished with 39 yards rushing and 177 passing in the romp. Two weeks earlier, Oregon State was edged 14-13 by No. 7 Washington in Portland, but it was a victory the game was played at all. The previous day's Columbus Day Storm did heavy damage to Multnomah Stadium, but crews got it in suitable condition in time for kickoff. Most of the power remained out during the contest, including that to the scoreboard and in the locker rooms.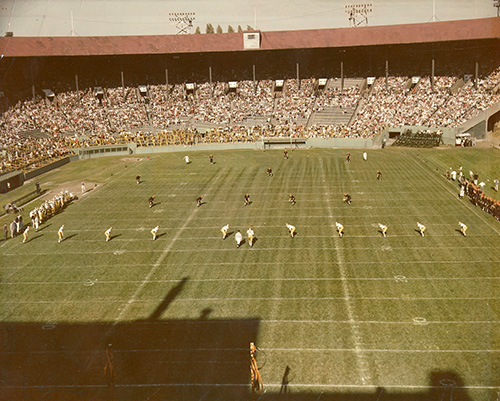 A Civic Stadium crowd watches Oregon State receive a kickoff from Washington in a game in the early 1960s.


Oct. 5, 1963
Another nationally ranked matchup with No. 22 Oregon State knocking off No. 14 Baylor 22-15 in a thriller for the 24,342 in attendance. With 27 seconds remaining. Beaver quarterback Gordon Queen connected with Danny Espalin who was hit at the Baylor 2-yard line and fumbled into the end zone; he managed to recover for the winning score. On OSU's 66-yard drive for the win, Queen was 7-for-12 passing.


Oct. 16, 1971
Oregon State pulls an upset of No. 11 Arizona State, 24-18. Fullback Dave Schilling scores on a pair of one-yard runs and a 12-yarder and Lynn Boston added a 41-yard field goal before 30,333 fans.


1983
Oregon State is the visiting team on Sept. 10 when it meets Portland State, but the majority of the 26,102 fans are rooting for the Beavers as they romp to a 51-14 win. Many of those fans were still finding their seats as OSU jumped out to a 34-0 lead by the end of the first quarter, keyed by Bryce Oglesby's 84-yard scoring run and Kenny Taylor's 64-yard interception return for another touchdown. The Beavers' lead grew to 51-0 in the third quarter before the Division II Vikings scored their two touchdowns.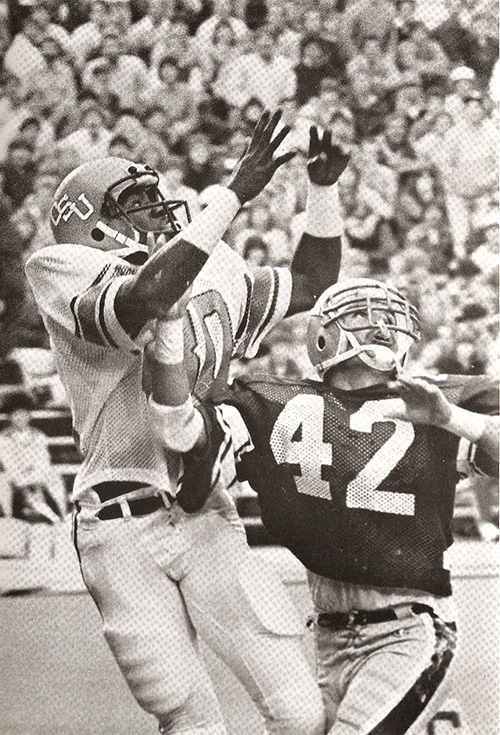 Oregon State wide receiver Reggie Bynum gets ready to haul in a pass in 1983's rout of Portland State.


1985
It was a dramatic finish in front of 21,182 rain-soaked fans on Sept. 14 as Oregon State beat California 23-20 on Jim Nielsen's last-play 20-yard field goal. OSU faced a fourth-and-4 from the Cal 40 with 1:26 left but Erik Wilhelm connected with Reggie Bynum for five yards to keep the drive alive. The triumph gave new head coach Dave Kragthorpe wins in his first two games and it was the first time the Beavers had won back-to-back games in seven years; Oregon State's only win the rest of the season would be a titanic 21-20 upset of Washington in Seattle.