Two former teammates look to build on stellar rookie years
April 12, 2023
June 5, 2022. Oriole Park at Camden Yards, Baltimore. Second inning on a sunny Sunday afternoon, one out, nobody on base.
And for the first time in a Major League Baseball game, Steven Kwan stepped to the plate with Adley Rutschman, '20, catching for the opposition.
"We were definitely just chatting it up a bit," recalled Kwan, who was batting for the Cleveland Guardians against Rutschman's Baltimore Orioles.
Two days earlier, the former teammates on Oregon State's 2018 national championship team had gotten together for breakfast and a little catching up. Kwan said they shared a thought on their first MLB season: "I can't believe we're doing this. We worked so long for this."
Then at the plate, "I remember stepping in and being like, 'Hey, man, go easy on me,'" Kwan said. "And a little chuckle and we were back at it." For the record, Kwan put together a seven-pitch at-bat before grounding out to pitcher Dean Kremer.
It's likely Kwan and Rutschman will be in that situation many times in coming years after the way they burst into the big leagues in 2022. In the American League Rookie of the Year voting, Rutschman finished second and Kwan third behind Seattle's Julio Rodriguez. As the 2023 season begins, these Beavers are looking to build on impressive debuts.
Rutschman — the No. 1 overall pick in the 2019 MLB draft — was called up to the Orioles on May 21 after recovering from an injury and tripled for his first big-league hit. He batted .254 with 13 home runs and 42 runs batted in, and quickly became regarded as one of the best defensive catchers in the game. At season's end, he was voted Most Valuable Oriole by Baltimore-area media after helping the Orioles into postseason contention. He's only the third rookie to earn this award since 1954.
Kwan made Cleveland's Opening Day roster and then tied an MLB record by reaching base at least three times in each of his first four games. He earned a Gold Glove in left field for the Guardians and batted .298 with 6 home runs, 52 RBIs and 19 stolen bases, helping his team clinch the AL Central Division championship. When Cleveland Magazine put together its list of Northeast Ohio's Most Interesting People heading into 2023, Kwan was among the 19 selected.
Beyond those accomplishments, in the national spotlight they came across as friendly and likeable guys. Two examples: with the Orioles visiting the Little League World Series, Rutschman responded to autograph-seeking players by not only signing for them, but also asking the kids to sign his jersey; Kwan spent an October evening scooping ice cream for fans at a Cleveland shop.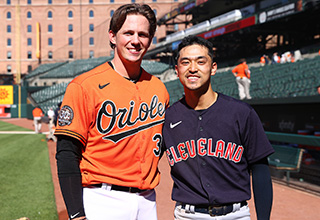 Former Oregon State teammates Adley Rutschman, left, and Steven Kwan, right, met up as Major League Baseball rookies on opposing teams in June 2022. (Photo courtesy of the Baltimore Orioles.)
"I think they're going to be two individuals who play in the big leagues for a long, long time," said Pat Casey, OSU's head coach when the duo played with the Beavers. "They're going to contribute to the community and those in need. It's one thing when you get somebody with a lot of talent and they have a lot of success, but when you get people like that who do it off the field as well as do it on the field, that's pretty cool."
Rutschman recalled that first plate appearance against Kwan as "crazy," but it was far from the only Oregon State baseball reunion in 2022. The season also saw him face off against Drew Rasmussen, '19, (Tampa Bay Rays), Trevor Larnach (Minnesota Twins) and former teammate Nick Madrigal (Chicago Cubs).
"It feels like not too long ago we were playing on the same team and trying to win a national championship," Rutschman said. "And now all the guys are up [in the big leagues] — it's really cool to see how that all comes into play because time goes so fast."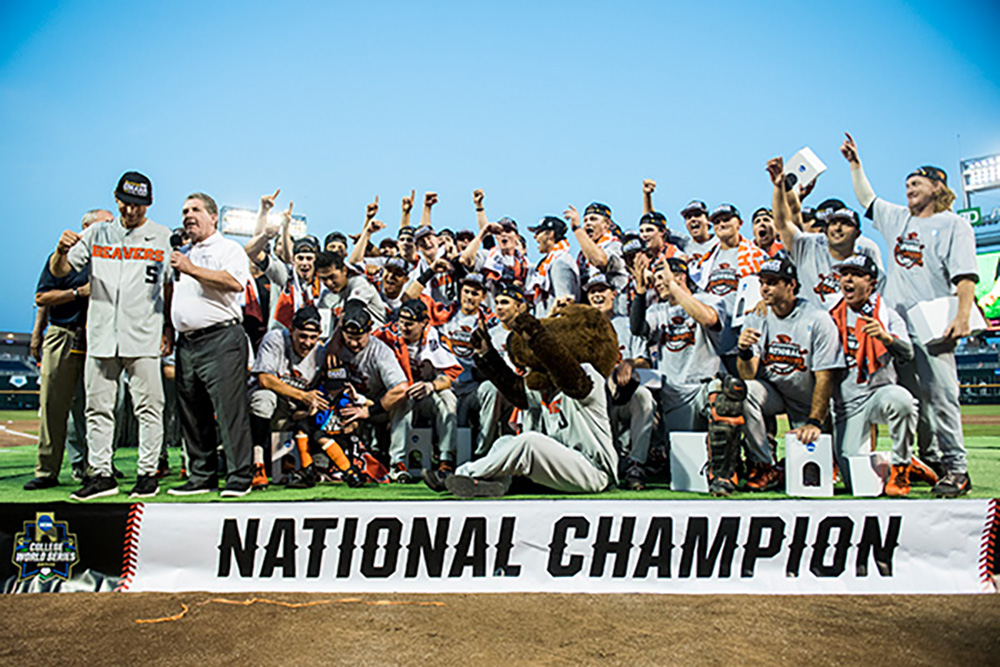 Oregon State's 2018 national champions celebrate after winning the College World Series. In addition to Rutschman and Kwan, two other players from this team — Nick Madrigal and Trevor Larnach — also play in the majors. (Photo courtesy of Oregon State Athletics.)
Two additional Beavers played with MLB teams in 2022: Caleb Hamilton, '20, with the Boston Red Sox, and Matthew Boyd, '14, for the Seattle Mariners. (Boyd signed with the Detroit Tigers for 2023.) Another MLB veteran, Michael Conforto, missed the season while recovering from injury, but has signed for 2023 with the San Francisco Giants.

"That's one of my favorite things about bragging to other people about my team, or even other players I meet across the league, is how many big leaguers we had on our [OSU] teams in the past," said Kwan. "It's always that camaraderie that's never truly broken."
Their first taste of the major leagues gave Rutschman and Kwan things to focus on this winter as they got ready for a 2023 follow-up to their flashy debuts.
"The thing about baseball is, you're always going to have things you're working on," Rutschman said. "I just want to get better in all the aspects of my hitting, just becoming more consistent. From a catching standpoint, continue to work on my strength, flexibility, pitch framing — just the overall catching position. Lots to work on."
For Kwan, offseason preparation involved "processing the whole season."
"People always talk about 162 games being a lot of games physically, but mentally it was exhausting as well," Kwan said. "So, I think just putting myself in a really good space to understand how long of a marathon it is, to save myself up in different avenues, so it's not always baseball every single day — finding ways to focus on other things is really important."
Mitch Canham, OSU's Pat Casey Head Baseball Coach, received numerous calls and texts last summer as the two rookies made headlines and highlight reels.
"It becomes a topic," Canham said. "Everyone is excited to mention it, like, 'How incredible are those guys' and their success and how hard they work."